South African Concentration Camps
Background
Following the British defeat of the Boers at Diamond Hill near Pretoria on the 12th of June 1900, the Transvaal officers (Boers) held a war council meeting at Balmoral where a new policy of guerrilla warfare tactics was accepted.
In response to the new methods introduced by the Boers, Lord Kitchener devised a scorched-earth policy against the Boer commandos and the rural population who supported them. Kitchener's countertactics involved destroying arms, blockading the countryside, burning farms, and placing the civilian population in concentration camps.
The destruction of the farms left the women and children without shelter, food or protection from individuals and groups who roamed the veld looking for unprotected targets.
The British were forced to build concentration camps to house and feed these refugees.  At least 40 camps were constructed to house approximately 150,000 Boer refugees and another 60 camps to house the 115,000 native Africans who had worked as servants for the Boers.
Most of the inmates of the Boer camps lived in tents and were provided with minimum rations. The families of men who were on commando and still fighting were given less food and no meat while the families of men who had surrendered, called hands-uppers, were given a little more.
The inmates of the native African camps were even worse off being provided only with mielie meal and salt.
Approximately 28,000 Boer civilians, of which 80% were children, died in the concentration camps and 20,000 native Africans.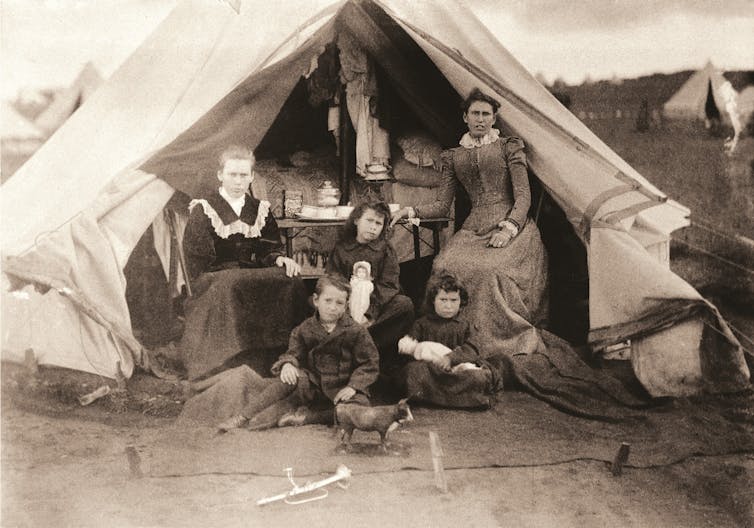 Picture of a family living in a tent in a Boer concentration camp (Source: https://www.up.ac.za/research-matters/news/post_2944059-concentration-camps-in-the-south-african-war-here-are-the-real-facts
A Reading From A Ghost and His Gold
Roberta reads a small portion of her excellent book on YouTube! Please be sure to view this!
A Ghost and His Gold is now available for purchase on Amazon! 
Please visit Roberta Eaton Cheadle's excellent sites: Robbie Cheadle Books/Poems/Reviews and